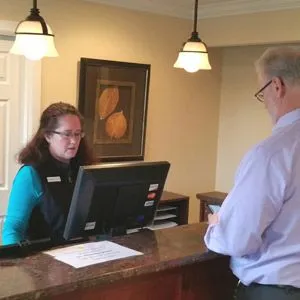 Proactive Pain Relief & Wellness is a modern health care office that's relaxing, efficient and welcoming. All ages will feel at home in our comfortable environment. When you call to schedule an appointment, we can usually get you in on the same day. We'll ask you for your insurance information and make sure you know where to find us. The necessary paperwork is easy to complete and will be given to you when you arrive.
We look forward to meeting you!
Getting Started
When you arrive, we'll give you a tour so that you know where everything is located. You can watch television in the waiting area or just relax before you'll go back to a treatment room to meet Dr. Lee or Dr. Michele.
We'll begin a comprehensive examination that includes range of motion testing, posture analysis and neurology testing when appropriate. You'll be treated with chiropractic care and any needed adjunctive therapies such as electric muscle stimulation.
Next, you'll check out and can schedule for a subsequent visit if you wish. We monitor your progress continually but don't put you on a long-term care plan unless you want to be. Once you've reached your goals, you can choose a support program, but we don't require it. Our patients usually decide to see us when they need it, and we understand that chiropractic care should fit into your lifestyle.
Book an Appointment Today
We're in-network with many insurance companies including Highmark Blue Shield, Blue Cross, Aetna and accept Medicare. Contact us today to find out more about what we can do for you!